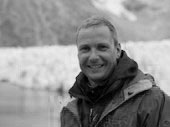 "Films need to engage people, and ultimately inspire them to take action"
Award-winning director,
Managing director of Ace & Ace,
Eskil Hardt.
The company Ace & Ace was established in 1994 by the two brothers Esben Hardt and Eskil Hardt, who originally started off producing sports photography, and extreme sports and adventure films in the Alps before starting up their own film company.
Since then Ace & Ace has produced more than 250 films and TV documentaries with focus on the environment, wildlife and social responsibility.
In addition they have produced cooking- & travel TV, short films, sport documentaries, corporate films, music videos, as well as a lot of still photography for corporate clients and organizations world wide.
They believe that a good story, told well, can truly make a difference in how one sees the world. Whether it is a feature film, documentary, short film or other form of media, the company's mission is to tell compelling, entertaining stories which create awareness of the real issues that shape our lives.
"If I can move someone to action then my job is done"
Award-winning editor,
Director of Photography,
Esben Hardt.